Painless schema design
Flexible Drying Options with 4 preset time control: 10s, 30s, 60s and 90s low heat mode, Enjoy professional quality nail polish at home.
Smart auto-sensing (no switch)
Put the hand into the Sun2 sensor and will automatically turn off to recover
33 lamp beads
Patented UV/LED lamp 48W beads provide unique properties: fast, very energy efficient and durable construction
Comfortable white light, no hurt eyes, no black hands
SUN2C generate daylight non-ultraviolet white light safe for eyes. Say goodbye to outdated single UV lamps causing troubles with blackened hands
Colourful
The top of the pad can be replaced with a different refreshing colour. Use pearl paint surface, texture upscale is difficult to scratch but easier to keep clean. If nail polish accidentally drupes on a surface, it is easy to clean it out.
With the hot selling of our SUNUV nail lamps, the nail lamp with the SUNUV logo is temporarily out of stock, so we will ship SUN2c Chinese version to the buyer and their functions are exactly the same.
if you mind this, please don't place the order.
Many thanks for your understanding and support.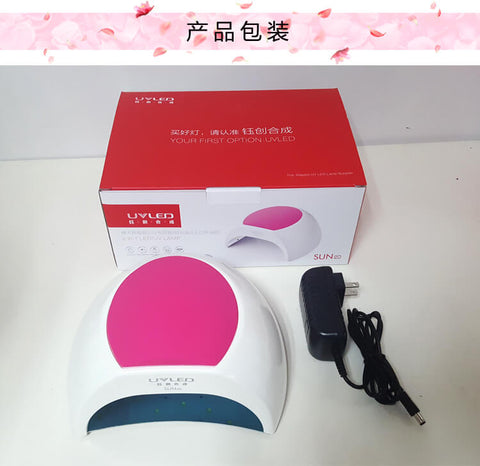 1. Apply a thin layer of the Gel Polishes according to its usage instructions to the clean, dry nail without touching the cuticle or skin alongside the nails.
2. Use the appropriate timer(10s/30s/60s/99s low heat mode) as per your gel polish's requirements. The lamp will automatically shut off after the specified time. Or use the auto-sensor, it would turn on or off automatically when you put hand/foot in or out.
3. Please note that curing time vary based on gel polish brand. SUNUV SUN2 is for all kinds of gel polishes only, not for regular nail polish. Ensure that your polish is compatible before purchase. For the best results, avoid moving your hand too much until curing is completed.
4. If gel polish is a little sticky after curing, please wipe your nails with a gentle cleanser or rubbing alcohol to get rid of the sticky residue left behind. Enjoy your beautiful manicure or pedicure with SUNUV nail dryer!
Free Shipping
Free shipping on all orders.
All items are shipped within 24~48 hours after payment and are fully traceable.
If you finish the payment today, your order will arrive within 7-21 Days.
When your order is marked for shipping, you will receive an email with your tracking information.
Please allow up to 24 hours for tracking information to be updated.
Returns & Exchange
If you have any questions concerning your purchased items please contact us at support@sunuvstore.com or Online Contact.
Please Inform Us Within 7 Days With Clear Photos Or Video If You Receive Goods With Problem, you can change or return the item, you just need to pay for the shipping cost and return the item to us;
If any quality problem within 3 months, a free new replacement will be sent when we receive the defective item;
If any quality problem within 12 months, a replacement will be sent and you only need to pay the shipping cost.